Happy 2016, everyone!
And thank you for being a part of our first full year (2015) of house concerts in Barrie.  Our audience has grown considerably since the move, and we're thrilled to have met a bunch of new neighbours and friends. 
---
The 2015 Recap
It was certainly a busy year!
Our first concert of 2015 was actually hosted for the
Barrie Folk Society
, with the incomparable
David Essig
performing.  One of Canada's finest blues guitarists and songwriters, he warmed us all up on a blustery night!  A mutual friend has been trying to introduce us for years, so we were thrilled to finally have an evening together, and may have gone to bed a little late that night... (but oh, the wine was tasty!).  He's an incredible songwriter, and a thoroughly entertaining performer – he even brought his book for the CD table!  He's planning to move from his paradise in BC to another piece of paradise overseas, but we're hoping he'll be back in Canada regularly, and look forward David return, even if just for the great conversation (but hopefully he'll perform for us again, too!).
In March, one of our favourite people and performers returned (well, he'd performed at our place in Orillia, but this was his first time in Barrie), singer-songwriter
Jon Brooks
, with his new album,
"The Smiling and Beautiful Countryside"
.  It appears the Take Note audiences are not afraid of murder ballads!  (It wasn't limited to his new songs, of course, there were also many of his earlier ones – but hmmm, guys, you sure did gravitate to the darker stuff!)  It was a thoroughly enjoyable evening, and Jon earned himself a lot of new fans in Barrie. 
In April, of course, we had the legendary
Ron Hynes
perform – he had just finished recording his final album, as it turns out.  His recent passing in November makes us all the more pleased that we were able to present this concert when we did.  There was much singing along of old favourites, plus some of his songs off the new album.  We also learned that our living room can easily cram in 50 people, if we move the furniture around the right way.  Despite his worries about the recording affecting his throat, his voice was in fine form, and he put on a terrific show.  We will all remember it and him fondly.
May was a bit of a departure for us, and we'll admit we were a little nervous about taking Bob Henderson up on his proposal to bring Icelandic sensation
Emiliana Torrini
– could we get enough ticket sales to make it worthwhile for her, and would our audience follow us that far to the edge of the folk/pop spectrum?  Our nervousness was in vain: we had a full house, and everyone just loved her music, and the playful banter with
David Celia
(her guitarist on this Ontario tour).  It was their last concert of the tour before Emiliana flew home, and we had a great after-show visit and late-night dance party – and hopefully she got a good sleep on the plane, because the sun was rising when we gave in and slept for a couple of hours.  Many have already asked us to let them know when she's returning – we promise! 
Another duo graced our stage in June, singer-songwriter
Rick Fines
and harmonica player
Roly Platt
– two of Canada's finest blues musicians.  Their incredible musicianship dazzled everyone, and the way they supported each other as they traded songs back and forth made this combination greater than the sum of its parts (which is already a pretty astounding sum!).  When they played Rick's "Riley Wants His Life Back" (with full sing-along happening), one of the audience members turned to us and proclaimed we had the life of Riley, knowing such great performers – we have to heartily agree! 
After planning to take the summer off (famous last words), we broke our own rule for the first time when we heard Edmonton-based singer-songwriter
Ben Sures
was coming through Ontario and looking for a place to play.  As it turns out, this was also the first house concert for our new pup, Macie, who enjoyed it almost as much as our audience did.  Ben should be commended for being a very brave soul – you know what they say about kids and dogs! – but all attention was definitely on him throughout the show.  And while it's usually pretty easy to get our audience singing along, he managed to get us all dancing as well!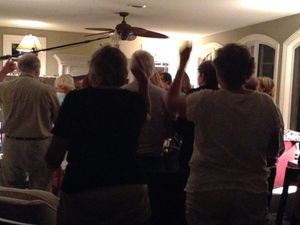 We broke our own rule for the second time with Manitoba's powerhouse duo
Leaf Rapids
(Keri and Devin Latimer) at the end of summer.  This is definitely our first house concert to involve a Theremin, which Keri demonstrated beautifully.  Their songs and sounds were just breathtaking, and it was a beautiful way to end the summer.  And speaking of kids and dogs, their son and daughter were on the road with them, so Macie had an absolute blast!  There was only one bark, which unfortunately happened while Keri was laying down a loop – fortunately Macie has a natural sense of rhythm, so the looped yip happened on the beat. 
Our 2015/16 season began with another husband-and-wife team,
The Young Novelists
(Graydon James and Laura Spink).  Shortly after their performance for us, the group was nominated for two Canadian Folk Music Awards (ultimately winning New/Emerging Artist of the Year), and Graydon was named the winner of the Colleen Peterson Songwriting Award.  We won't say we had anything to do with it, but...  let's just see who plays our September 2016 show!  They had us all mesmerized, and nobody was surprised to hear all their well-deserved good news.  We hope they'll return, even though they've now hit the folkie big-time! 
In October, the stars had finally aligned for a concert we'd been trying to organize for a few years: the return of one of our favourite singer-songwriters (and people), Montreal singer-songwriter
Rob Lutes
.  As always, he put on a spectacular concert, pulling emotions out deep from everybody's baby toes and dazzling them with his guitar playing and smooth single-malt voice (which, fortunately, wasn't affected by the head cold he'd developed that morning).  We hope it won't be too many years before we get him back again!  By the way, he and Michael Emenau have a new project called Sussex, which has some incredible arrangements of Rob's songs with Michael's vibraphone playing, and a number of other fine players – their CD
"Parade Day"
is now available, and it's incredible (as are all of Rob's albums). 
2015 was finished off with a magical night, courtesy of three easterners: the inimitable
Laura Smith
and duo 
Naming the Twins
.  They even got the two of us up playing and singing along, plus Ray Dillard adding some percussion!  Three-part harmonies (and occasionally five) on Laura and Robbie's glorious songs, ah... sigh...  At intermission, Laura got the news that her friend (and our April performer) Ron Hynes had just passed away, which made our earlier decision to sing
"Farther Along"
(with all five of us up front) all that more poignant.  And we of course added Ron's classic
"Sonny's Dream"
– when Laura's tears prevented her from completing a verse, the audience joined in to help her out.  There wasn't a dry eye in the house.  It was a sad night, but it seems particularly fitting to have this reminder that the music carries on, and the depth of emotion shared in our living room that evening is reverberating through it still.
---
Looking ahead
In all our enthusiasm for the concerts last year, we managed to thoroughly exhaust ourselves, and we think we started to over-stretch our audience as well.  So with that in mind, we're going to try our darndest to stick to our original game plan – 2 concerts in each of autumn, winter and spring, and nothing in the summer.  We're gonna try, anyhow...
Our first three concerts are now confirmed, starting Wednesday, February 10 with Sarah Jane Scouten – a new discovery for us, and we hope you'll enjoy her as much as we do!  We'll be getting full details about that concert out momentarily... honest... we mean it.  (Or you can see them on our website right away.)
Up next is Fraser & Girard on Saturday, March 19 – a new duo made up of Allan Fraser ("Dance Hall Girls", Fraser & DeBolt) and Marianne Girard (CFMA nominee), "an incomparable couple, both on and off the stage" [London Free Press].
And on Saturday, April 16, we'll be featuring another couple on and off the stage, KEWT, featuring guitarist Terry Tufts (who you saw here in 2014) and pianist Kathryn Briggs.
There will be one more show in May, before we take a break for the summer (we really mean it this time!), but it hasn't been confirmed just yet.
Hope to see you soon!

Alyssa & Don